We are Advanced Integration
NVIDIA-Certified Systems for Enterprises with ASUS
NVIDIA-Certified Systems for Enterprises refers to a program by NVIDIA that certifies specific hardware systems, such as servers, workstations, and data center solutions, for optimal performance and compatibility with NVIDIA technologies. These certified systems are specifically designed to meet the rigorous demands of enterprise-level applications, including AI, deep learning, data analytics, and scientific computing. By going through the NVIDIA certification process, these systems undergo extensive testing and validation to ensure they meet the performance, reliability, and compatibility standards set by NVIDIA. This certification provides enterprises with the assurance that the hardware they are deploying is fully optimized to leverage the power of NVIDIA GPUs and related technologies.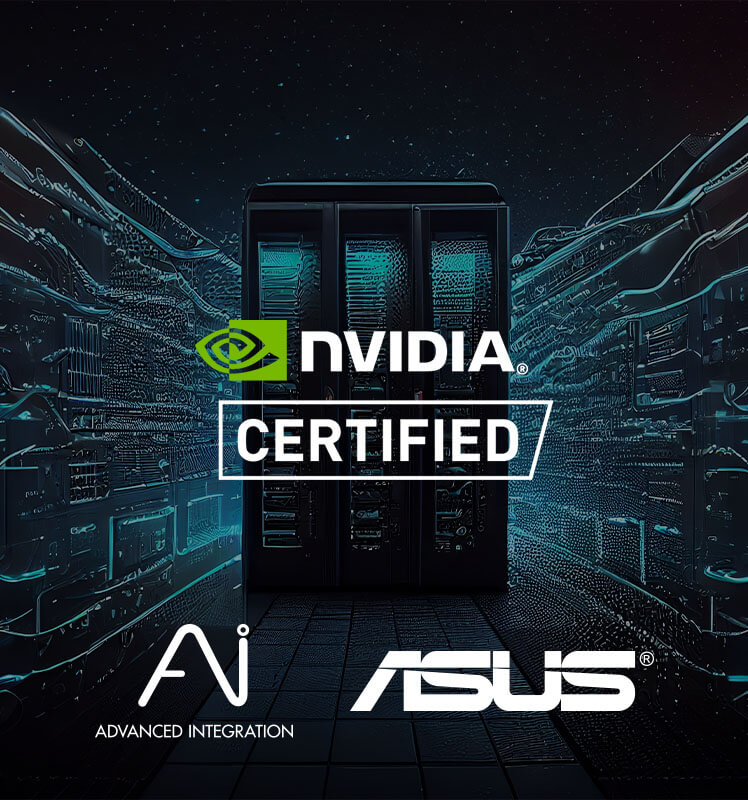 Your Trusted Partner for Optimal Enterprise Solutions
Unlocking the Power of NVIDIA-Certified Systems with ASUS
As a trusted provider, Advanced Integration is dedicated to assisting you in harnessing the power of ASUS solutions and NVIDIA-Certified Systems for Enterprises. With our expertise and industry knowledge, we guide you through the process of selecting the ideal ASUS-certified systems, including servers, workstations, and data center solutions, tailored to meet the specific demands of your enterprise-level applications. By working closely with us, you gain valuable insights and recommendations to ensure that the hardware you deploy is optimized for exceptional performance, reliability, and compatibility with NVIDIA technologies. Our collaboration empowers you to navigate the NVIDIA certification process seamlessly, providing you with a validated platform for running resource-intensive workloads. By leveraging the full potential of NVIDIA's advanced technologies, including AI, deep learning, data analytics, and scientific computing, you can accelerate innovation and drive productivity within your organization. Trust Advanced Integration to be your strategic partner, enabling you to make informed decisions and select ASUS-certified systems that meet your critical computing requirements with confidence.
Optimal Performance
ASUS, a trusted partner in the NVIDIA-Certified Systems program, delivers exceptional performance for AI, deep learning, and data analytics workloads, harnessing the full power of NVIDIA GPUs.
Reliability and Compatibility
ASUS-certified systems undergo rigorous testing to ensure seamless compatibility with NVIDIA software and hardware, providing a stable and reliable computing environment for enterprises.
Enterprise-Grade Support
With ASUS as a certified provider, enterprises can rely on their expertise and dedicated support teams to assist with system deployment, troubleshooting, and optimization, ensuring smooth operations and maximum performance.
Wide Range of Applications
ASUS-certified systems are suitable for a diverse range of enterprise applications, including AI research and development, data analytics, and high-performance computing, offering powerful and reliable computing solutions tailored to meet specific business needs.
Accelerated Applications Are Transforming Enterprise Computing
NVIDIA-Certified Systems™ empower enterprises to confidently deploy secure and optimized hardware solutions for running modern accelerated workloads, from desktop to data center to edge, enhancing performance and operational efficiencies.
Let's change this world with AI
Advanced Integration
Added value
Strong partnerships with AI Ecosystem vendors
Onsite or Remote POC
Custom built solution
Advanced Integration offers comprehensive assistance with NVIDIA Omniverse, including installation and implementation support. We guide you in selecting the right solution and provide professional training to help you use Omniverse efficiently. With our expertise, you can maximize its capabilities for real-time collaboration, simulation, and visualization. Our goal is to empower you to leverage Omniverse effectively, enabling enhanced productivity and creativity in your professional projects.
Elevate Your Enterprise Computing with NVIDIA-Certified Systems and ASUS
Discover the ultimate computing experience with Advanced Integration's unrivaled expertise in NVIDIA-Certified Systems combined with ASUS technology. At Advanced Integration, we offer a seamless integration of cutting-edge hardware, enhanced productivity, and unparalleled support. With our guidance, you can confidently select and implement the perfect solution tailored to your unique enterprise needs. Empower your business and unlock its full potential with the winning combination of NVIDIA-Certified Systems and ASUS. Trust in Advanced Integration to elevate your computing infrastructure to new heights and achieve unparalleled success in the ever-evolving digital landscape.